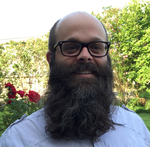 Professor Parker's research explores U.S. foreign relations during the mid-twentieth century with a particular interest in modernization and non-state actors. His first book explores the foreign relations of the Arabian American Oil Company with an eye toward how it employed development programs to organize Saudi Arabia for more efficient resource extraction while at the same time it hoped to establish stronger diplomatic ties with the Saudi monarchy. He shows how modernization served the political and diplomatic interests of the company and monarchy alike, but not in ways typical to state-led development programs at the time. He is working on two projects at this time. One looks at non-state actors engaged in American foreign affairs in the Antarctic while another considers broadly the role of oil in American history.
Research Interests: U.S. Foreign Relations, U.S.-Middle East Relations, Non-State Actors, Development/Modernization, Oil
Recent Publications:
• Making the Desert Modern: Americans, Arabs, and Oil on the Saudi Arabian Frontier, 1946-1973 (University of Massachusetts Press, 2015).
• "Aramco's Frontier Story: The Arabian American Oil Company and Creative Mapping in Postwar Arabia," in Oil Culture, Ross Barrett and Daniel Worden, ed. (University of Minnesota Press, 2014).
• "Controlling Man-Made Malaria: Medical Modernisation and the Arabian American Oil Company's Malaria Control Program in Saudi Arabia, 1948-1956," Cold War History 12, no. 3 (August 2012): 473-494.
Recently Taught Classes:
Exhibit Design and Development
Film and the 1980s
Oil and American History
U.S. History since 1865
Twentieth-Century U.S. Foreign Relations
Doing Secret History
American Readings Seminar: U.S. in the World in the Twentieth Century
Research & Writing Seminar: U.S. in the World in the Twentieth Century (Capstone)
U.S.-Middle East Relations History