Concentration in Public History
In the Department of History, Geography, and Philosophy, we offer public history as a concentration within the master of history program.
Courses in the master's in public history program are designed to provide hands-on training and problem solving abilities while cultivating the special research and professional skills required by public historians. Students are challenged to combine solid historical training with skill development and a cross-disciplinary approach to history.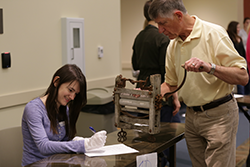 Opportunities for specialization in the MA in public history program include:
Applied research
Archives and manuscripts
Historic preservation
History in museums/exhibitions
Historical editing
Oral history
Local and community history
At the University of Louisiana at Lafayette, our master's in public history students have a range of on-campus and community resources for research and projects, including:
Center for Louisiana Studies
University Archives
Louisiana Historical Association
Many of our master's in public history students work locally, as well as complete internships across the country. Acadiana is rich in history and filled with exciting opportunities for students earning their MA in public history.