UL Students Share Stories of Migration
In response to contemporary political events, the History department sponsored a "History Harvest" and a "Teach-in" to discuss immigrants and refugees in historical context. We wanted to show solidarity and support for all our UL students, especially our Muslim and Latino students, as well as any students who come from immigrant families. During the History Harvest, we collected oral histories from students on how they came to be "Ragin' Cajuns." Though some participants at first thought they did not have a story to share, many college students have a tale of migration and displacement. Some students remembered moving from New Orleans after Hurricane Katrina, while others traced their families back to great-great-grandparents who were slaves. Even students who grew up right around Lafayette remembered their culture shock when they became college students or traveled to other regions in the US. Students told emotional tales of parents and grandparents who escaped Communist Cuba or Vietnam, and others recounted family stories of relatives who migrated from Lebanon, Thailand, and Mexico to find economic opportunity in the US.

Both faculty and graduate students volunteered to collect written and oral histories. Hearing these stories was a true privilege; each one was unique and demonstrated the diversity of our campus. Read and listen to just a few of them below. 
---
Victoria Wayne shared her family's remarkable story, stretching from southern Angola to Geismar, Louisiana. In 1896, her great-great grandfather became among the first to graduate from Strait University, which today is Dillard University in New Orleans. Listen to Victoria's story here. 
Victoria Wayne shares her family history at the History Harvest: UL Stories of Immigration.
Listen to Maria's emotional journey from Colombia to Lafayette, and the educational opportunities that she and her parents have pursued. You can hear Maria's story here. 
UL student Maria tells her story of immigration at the History Harvest: UL Stories of Immigration.


Cody McNamus explains his pride in his Spanish and Hispanic background, even if some people assume he is Irish or Scottish because of his red beard. Hear Cody's story. 
UL student explains his Hispanic heritage at the History Harvest: UL Stories of Immigration.
Inspired by her mother's story of escaping Vietnam in the 1970s, Senior Delena Phung has pushed herself to pursue higher education and possibly a career in the U.S. Navy. Listen as Delena shares her family's history here. 
 
UL student explains her mother's journey from Vietnam at the History Harvest: UL Stories of Immigration. 
---

After the "History Harvest," the department held a "Teach-in" in the Ernest J. Gaines Center with Dr. Richard Frankel. In a talk entitled, "When America Closed the Golden Door: From Chinese Exclusion to the Holocaust." Dr. Frankel explained how, contrary to depictions of the US as a welcoming "land of immigrants," xenophobia and racism have led to exclusionary immigration policies for many decades. These policies culminated in the US denial of Jewish refugees aboard the St. Louis in 1939, sending them back to Europe, and in the case of too many, to the Nazi death camps. 
Dr. Richard Frankel gives a talk on "When America Closed the Golden Door: From Chinese Exclusion to the Holocaust."
 
Dr. Frankel left the audience of more than 60 students and faculty with the following message: "The fundamental connection between immigration and nationalism means that all too often the door will be open to a rather limited group of people. Deciding who is a member of the nation, who is in and who is out, is a decision to limit the boundaries of one's moral universe… but the farther the boundary of your moral universe extends, the more people who fall within it, the more people whose fate is of concern to you. In the 1930s, the Jews found themselves largely outside the moral universe of too many people, and that helped seal their fate." 

We hope that by recognizing how our own "Ragin' Cajun" community has hailed from all parts of the world, we can foster an inclusive environment and widen our moral universe. 


Exhibit "UL Immigration Stories" outside of the History Department in Griffin Hall. 
 
The History department collected 25 oral history interviews and over 50 written testimonies. The testimonies can be viewed in a temporary exhibit outside of the History department, on the fifth floor of HLG Griffin Hall. Please visit and feel free to write your own story to share! All oral histories have been donated to the UL History Department archive, and will be made available to future researchers. We thank the Ernest J. Gaines Center for hosting the Teach-In and to all the faculty, students, and community members who participated and volunteered for the event.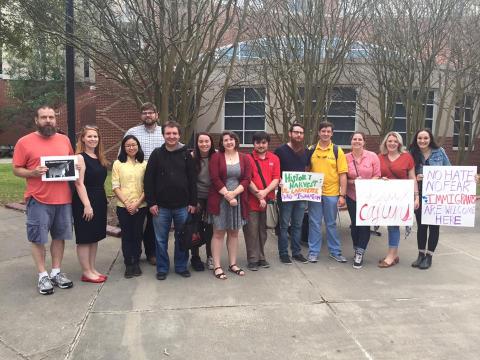 UL History faculty and graduate students after collecting oral histories for the History Harvest: UL Stories of Immigration